BJ Keith
The California based artist, Keith is known for her work in metal, especially dimensional wall art and floor standing sculptures. She describes her work as "non-objective, with emphasis on line, rhythm, and balance of negative and positive space and implied motion.
Altadena, CA – Who could have known what the future held for this mechanically-inclined girl whose favorite "toy", was a tool kit rather than dolls. Her father, whom she describes as a mechanical genius, taught her much about lay-out, engineering and construction. She holds a Bachelor's degree in Studio Arts from California State University, Los Angeles.
Keith is a hands-on artist who finds excitement and discovery in the assembly process." If someone else executed my drawings I would lose this. Sometimes what I end up with is totally different than my original drawing because I see something in the actual metal elements that was not apparent in the drawing" says Keith.
Keith admits she has an "insatiable artistic appetite". This appetite compels her to study the world around her, whether it is the strong bold lines of man-made objects or the softer living lines of nature.
"It's about learning how to see", Keith says. "I think we artists see the world in a way that's different from everyone else. Everything I observe gives me inspiration for my art".
Keith has four daughters and five granddaughters. In her leisure time, which is seldom, she is striving to become a painter." It's a new challenge and for me that's what life is all about".
Bryan Keith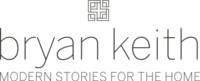 Bryan Keith Parker is the creative spark behind bryan keith design, a modern classic lifestyle brand spanning home décor, bedding, furniture and window treatments.


Bryan's popular bedding collections - comforter sets, quilts, duvets and window treatments - are carried exclusively at macy's and macys.com.


Organic Inspiration.
From his native Mississippi roots – including Bryan's college days at Ole Miss - to stateside jaunts around California, New York, Cape Cod and Colorado, as well as exotic destinations like Bali, Thailand and India – every memory, every journey and experience provides inspiration!


"I'm a storyteller using color, pattern, and finishes to bring a home to life."




Chic Comfort. Modern Esthetics.
bryan keith design melds classic styling with modern expectations, with fresh, clean and uncluttered designs and unexpected, luxury-brand embellishments - embroidered pillows, quilted bedding, ikats, fabulous fabrics, repurposed materials…

See more at: http://bryankeithdesign.com
Jane Seymour
A multiple Emmy® and Golden Globe® winner, recipient of the Officer of the British Empire (OBE) in the year 2000, which was bestowed upon her by Queen Elizabeth II at Buckingham Palace, Jane Seymour has proven her talents in virtually all media, the Broadway stage, motion pictures and television. Her love of art and color has led to her great success as a painter in watercolors and oils and as a designer.

Seymour's past films include the James Bond movie Live and Let Die, the cult classic Somewhere in Time, and the comedy smash Wedding Crashers. Her television credits include the Emmy® Award winning performance in Onassis: The Richest Man in the World as Maria Callas, East of Eden for which she was awarded a Golden Globe®, the mini-series War and Remembrance and her Golden Globe® winning role as "Dr. Quinn" on Dr. Quinn Medicine Woman which ran for six seasons . Additionally Seymour appeared on the Emmy® nominated Dancing With The Stars. Her upcoming projects include the Sony Classics feature film Austenland and the television movie Love Struck for ABC Family.

Daughter of a British obstetrician and his Dutch wife, Jane was born in Hillingdon, England and raised in Wimbledon. She began training in dance at an early age, and was just thirteen when she made her professional debut with the London Festival Ballet. That same year, she entered the Arts Educational Trust for dance, music and theatre training and danced with the visiting Kirov Ballet at Covent Garden.

In addition to acting, Jane has written over 10 books including her most recent , Open Hearts Family, along with Among Angels, Open Hearts, Making Yourself At Home, and Remarkable Changes. As well, she has launched Jane Seymour Designs, a national lifestyle brand inspired by her homes, art and family-centered lifestyle.

When she is not acting, writing or designing, Seymour can be found in her painting studio.

With a thriving career as an artist and her own art gallery in Los Angeles, she has exhibited in numerous galleries and venues across North America. Over the past eighteen years she has created an intimate world of delicate watercolors, colorful vibrant oil paintings, pastels and bronze sculptures and has accepted select private commissions. She continues to reach new artistic levels by continually developing her technique, style and subject matter.

Her art also serves as inspiration for Open Hearts by Jane Seymour®, a jewelry line for Kay® Jewelers. Inspired by Seymour's original paintings of two hearts connected and open at either end, the exclusive designs symbolize that love has no boundaries and flows unconditionally. The open heart design reminds us that if we keep our hearts open, love will always find its way in. Seymour's Open Heart philosophy reflects her mother's advice that only when you keep your heart open can you best give and receive love. It is also the driving force behind www.keepanopenheart.com which provides an online forum for people to discuss how living with an open heart has changed their lives.

Seymour is involved in many philanthropic causes including Childhelp, American Red Cross, City Hearts and Camp Soaring Eagle. In addition to the charitable work that Seymour does with these notable organizations, in 2010 she launched the Open Hearts Foundation.

See more at: http://www.keepanopenheart.com

See more at: www.openheartsfoundation.org


View Products
Little League
Little League Baseball and Softball
(officially,
Little League International
) is a non-profit organization based in South Williamsport, Pennsylvania, United States, which organizes local youth baseball and softball leagues throughout the U.S. and the rest of the world.
Founded by Carl Stotz in 1939 as a three-team league in Williamsport, Pennsylvania, Little League Baseball encourages local volunteers to organize and operate Little League programs that are annually chartered through Little League International. Each league can structure itself to best serve the children in the area in which the league operates. Several specific divisions of Little League baseball and softball are available to children ages 4 to 18. The organization holds a congressional charter under Title 36 of the United States Code.
The organization's administrative office is located in South Williamsport. The first Little League Baseball World Series was played in Williamsport in 1947. The Little League International Complex hosts the annual Little League Baseball World Series at Howard J. Lamade Stadium and Little League Volunteer Stadium, and is also the site of the Peter J. McGovern Little League Museum, which provides a history of Little League Baseball and Softball through interactive exhibits for children.

See more at: http://www.littleleague.org


View Products
Nativ living
As The Mossy Oak Story Goes...

It began with a fistful of dirt in 1986, and the same hunting and outdoors lifestyle still exists here today. Our love of the outdoors and our commitment to sustain that lifestyle drives us to partner with companies sharing our values. We work to support programs and organizations committed to the outdoors, as well as to build relationships that complement the Mossy Oak brand lifestyle.

Beginning with the desire to get closer to critters, Mossy Oak was founded in camouflage design. Our first patterns - Bottomland®, Greenleaf®, original Treestand®, Full Foliage® and Fall Foliage® - used natural elements and colors, and electrified the camouflage industry with specialized designs that made the hunter actually blend into the natural surroundings.

Our development team quickly realized shadows are the most common element of nature. The first in our shadow series patterns introduced by Mossy Oak was Break-Up®, which revolutionized the way people thought about camo. Break-Up was much more effective at concealment and in so many different hunting situations, it quickly became a best-seller. Other specialty patterns in the shadow series included Shadow Grass®, Shadow Branch®, Shadow Leaf® and Forest Floor®.

As technology improved in digital imagery and printing techniques, so did our patterns. As we moved into a new century, our patterns became ultra-realistic with an enhanced 3D effect. We put the new technology to work on our most popular pattern, Break-Up, and the redesigned pattern was introduced in 2002 as New Break-Up®. We soon followed with New Shadow Grass®. Then in 2004, came our unmatched spring pattern, Obsession®. We conquered the Western big game market in 2005, a first for us, with Brush® and in 2007 and 2008, Duck Blind® and Treestand® were launched respectively.

In 2010, we built on the continued success of Break-Up by introducing Break-Up Infinity®. 2013 brought the launch of Shadow Grass® Blades®, a purely grass pattern that offers waterfowlers a versatile and effective pattern for hunting along water edges and flooded fields.

This year, we've introduced Break-Up Country®. Now, no matter where you're hunting across the country, Break- Up Country has you covered.

Mossy Oak is, first and foremost, a camouflage brand, and our core consumer not only wears Mossy Oak camo for concealment in the woods, fields and open country, but as a representation of their love for the outdoors and the hunting lifestyle in their daily lives. That same appreciation for the outdoors and passion for hunting exists within our company and is consistently communicated through various channels. From print to TV to the World Wide Web, through events, ProStaff, trade shows, and at hunting camp – everything we do goes back to hunting, land stewardship, conservation and our outdoor heritage.

Thanks to all the great partners who have helped make Mossy Oak what it is today!